The Windrush Generation were invited to fill Britain's post war labour shortage and help to re-build the Nation.
The name Windrush originates from the HMT Empire Windrush ship which carried one of the larges and earliest groups in 1948, because the Caribbean at the time was part of the British Commonwealth. Those who arrived here were automatically British subjects and free to permanently live and work in the UK….
Not all white Britons welcomed the black Britons. Many West Indians found that the colour of their skins provoked unfriendly reactions. Despite the desperate shortage of labour, some still found it difficult to get good jobs or accommodation due to what has been referred to as a 'colour bar'. Often they were forced to accept jobs which they were over-qualified for, or they were paid less than other white workers. Government reports compiled in the 1940s and 1950s, like the one in this lesson, evidenced racist attitudes towards these new communities.
West Indians also experienced difficulties in finding suitable places to live. Since few had much money, they had to find cheap housing to rent near to their workplace. This was often in the poor inner cities. Even if they did have enough money to rent better quality housing, many had to face the fact that some landlords refused to rent to black people. They would be confronted with insulting signs in house windows that said 'Rooms to Let: No dogs, no coloureds'. This meant that a lot of West Indians were forced to rent homes in the most rundown areas.
In 1958, in areas where larger numbers of West Indians lived, there were outbreaks of violent 'race riots'. In particular, in Nottingham and London mobs of white people attacked black people in the streets, smashing and burning their homes. There were also calls for greater controls on immigration which resulted in the Commonwealth Immigrants Act of 1962 and further legislation in the form of Commonwealth Immigrants Act of 1968 and 1971 which restricted British citizenship.
West Indians had been invited to come to Britain, so they also felt that it was their home too. To be discriminated against was a shock which they had not been prepared for. Some returned to the West Indies, but many remained – despite the difficulties they faced. They have worked hard and made a contribution to British life. Today, many still face inequalities in the terms of housing, the workplace and within the social services.
Into the 19th and 20th centuries
Sources at Shropshire Archives show how the abolition movement found support in Shropshire at the end of the 18th century and how campaigners and emancipated slaves visited the county.

Local boroughs, in particular Bridgnorth and Much Wenlock, regularly petitioned Parliament for the abolition of slavery. 
The fantastic series of diaries by Katherine Plymley show the support she and her brother, Archdeacon Joseph Plymley of Longnor, gave to the Abolitionist movement.  She writes with admiration for Prince Naimbana of Mobana who visited Britain in 1791 and also describes meeting Gustavas Vasa (also known as Olaudah Equiano) who was enslaved at 11 but bought his freedom and wrote compellingly about his experiences (refs 1066/17 and 19).
Another famous former slave, Henry 'Box' Brown, visited Shropshire in 1859.   In March 1849, Henry paid for a 3 foot by 2 foot crate and mailed himself from his master's home in Richmond Virginia to the home of abolitionist Passmore Wiliamson in Philadephia. Henry spent his free life performing, re-enacting his escape.  His spectacle shows combined magic and hypnotism and still inspire today (you might have seen Richard Essien aka Magical Bones and his performance for Britain's Got Talent based on Henry Box Brown's Act).
The Black presence in Shropshire continued throughout the 19th century and several gravestones mark this.  A stone in the churchyard at Bishop's Castle marks the grave of 'a native of Africa'. The initials are unclear but this is possibly John Davies who was buried in September 1801. The stone was recently given listed status by Historic England.
Numerous Black, Asian and Ethnic Minority people made an important contribution to the local community.  Taking just one example, Dr Satyn Muzumder (1880-1958) came to Britain to study medicine aged 18. After qualifying he moved to Pontesbury to work for Dr R W Riley.  He married a local woman called Minnie and set up his own practice in Worthen.  Much of his career was spent in Durham but after retirement he came to live in Minsterley and was active in local non-conformist churches as shown by his obituary in the Shrewsbury Chronicle.  This just one example but there will be many more that we aren't aware of.
Many Black people came to Britain from Commonwealth countries during the First and Second World Wars, some stayed and settled in Britain.  African-Americans were also stationed in Shropshire in the 1940s.  Undoubtedly the most famous visitor was Halie Selassie, Emperor of Abyssinia who stayed in Walcot Hall during some of his years of exile in the late 1930s.

The Black presence in Shropshire was enhanced by economic migration after the Second World War and some came seeking work in the engineering industries particularly in the Telford area.  Those who came from the Commonwealth to the UK between 1948 and 1971 are often known as the 'Windrush Generation' after the Empire Windrush ship that docked in 1948.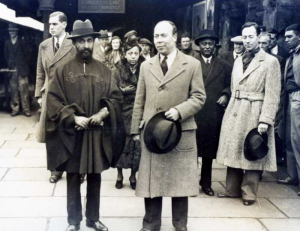 During the recent Windrush scandal, people who had legitimately settled and worked locally for decades were threatened with sudden deportation.  Sources at Shropshire Archives including school records helped provide at least one proof of residency and a successful last minute challenge to deportation. This is a powerful demonstration of how important archive sources can be.
At Shropshire Archives, we aim to collect material which relates to the whole community of Shropshire past and present. We're very conscious that our collections don't always reflect this fully and we would be grateful for any help which enables us to build a more complete picture of life in Shropshire.
Written by sarahd (Shropshire Archives)